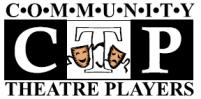 CTP Presents Our 2013 Fall Production
"Murdered to Death"
by Peter Gordon

Directed by Jennifer Bett
This hilarious spoof of the best of Agatha Christie traditions is set in a country manor house in the 1930's, with an assembled cast of characters guaranteed to delight. The play introduces the inept and bungling Inspector Pratt, who battles against the odds to solve the murder of the house's owner. It soon becomes clear that the murderer isn't finished yet, but will the miscreant be unmasked before everyone else has met their doom, or will the audience die laughing first?
8:00pm October 18, 19, 24, 25, and 26
Tickets are $7 per person. Special VIP dinner package for an additional $15 for Friday performances. Dinner seating is at 6pm.
For reservations, please call 412-766-4471!
---